supported by

Philippa Ballantine - NZ GoH
---
Born in Wellington, New Zealand, I always had my head in a book, influenced no doubt by my father who thought Lord of the Rings was suitable bedtime reading for an eight year old.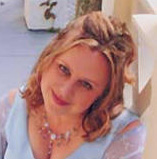 One of my old schoolfriends remembers me trailing about with an green hardbacked journal which I was busy scratching my first 'novel' into. I had run out of stories to read, and found great enjoyment in writing my own. These early scribblings might not be publishable, and cause plenty of amusement now, but they were the stirrings of a need to express myself. But fantasy writing was not highly regarded in literary circles. My 'normal' writings earned me praise and a spot in the school magazine, but what I yearned for was magic. My writing spluttered out.
I studied English Literature and Politics at Victoria University, and after graduation found myself in the world of libraries. Then one day, after one of those painful life altering moments, I picked up the pen again, this time determined to enjoy writing for its sake, and not to worry if it bought me acclaim or not. Basically I had learned not to care about the goal- just to enjoy writing itself. I haven't stopped since. Oddly I never considered a career with books, even though they surrounded me from the beginning. It feels like I have found my place.
So now writing takes up large portions of my time, and I squeeze in other activities, like gardening, needlework, collecting dragons and ceramics, DIY, and reading (of course). I'm particularly fascinated by renaissance and medieval history in Europe, and the history of my own country New Zealand. For a few years I was the New Zealand history editor at Suite101. I'm using this research in my current writing project. In between I try to catch up with my new husband Graeme, who is completely understanding about how important writing is to me, and helps out with all the practical things in my life that seem to take a back seat. Oh and our Our two cats Sherazad, or 'Shaz', and the handsome Cassius attempt to run our lives as cats do.
---