The Venue
---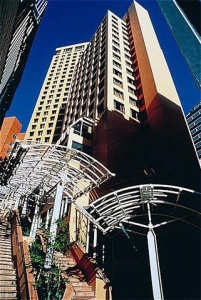 The convention will be held at the Copthorne Hotel Wellington Plimmer Towers. This is an excellent hotel right in the heart of the city with great conference facilities, and we think it's an ideal NatCon venue.
The hotel is now fully booked for the Saturday night, so you'll have to look elsewhere for accommodation if you're travelling from out of town. Check this list of other Wellington hotels, or try the Yellow Pages. Nomads backpackers is within easy walking distance.
Within the hotel, food and drink can be obtained from the Caronia Bar adjacent to the con rooms, and the Atrium restaurant. There's a dairy/newsagent on the fourth floor, and a cafe just outside. A New World Metro supermarket is just round the corner on Willis St, and dozens of restaurants and cafes are only a short walk away.
Getting There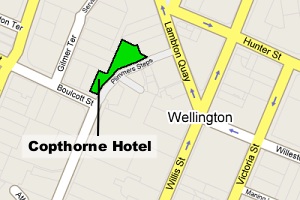 The Copthorne is located alongside the Plimmer Steps, near the corner of Lambton Quay and Willis St. The con registration desk will be on the sixth floor, and hotel reception is on the seventh. Escalator or elevator can be taken from the bottom of the Plimmer Steps, if the climb doesn't appeal.
There is a Wilson parking building adjacent to the hotel, on the corner of Boulcott Street and Gilmer Terrace. Parks cost $10 all day on weekends and public holidays. Payment is by auto pay; the machines accept credit cards. There is a height restriction of 1.85m. The hotel has 29 parks reserved for guests, at $5/day or $10 overnight - check with the hotel reception. Wellington has free on-street parking on public holidays and weekends, but on Saturday a two hour time limit is enforced, and tickets start at $12 for just 30 minutes overtime.
If you're using public transport, virtually all Wellington bus routes pass along Lambton Quay. If you're coming from the Railway Station (north) end of town, disembark outside the ANZ, the 4th stop on Lambton Quay. If you're coming from the Courtenay Place/Airport (south) end, get off at the end of Willis St, the first stop after Manners St. Trips on most buses within the city center (between Courtenay Place and the Railway Station) cost $1.
Wellington has many taxi companies, and as you walk the main streets you will pass a few taxi ranks. Kath recommends Wellington Combined (call 04 384 4444 or email bookings@taxis.co.nz) and Corporate Cabs Wellington (book online or call 0800 101 103)
Wellington
Wellington is New Zealand's capital city, and a great place to visit. The compact city centre surrounded by bush-covered hills provides both natural and unnatural attractions. Shopping, parks and gardens, museums and galleries, live music and theatre. There's also an enormous range of cafes, bars, and restaurants to suit all tastes and budgets.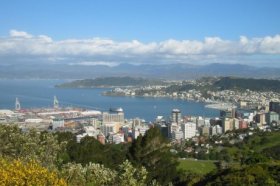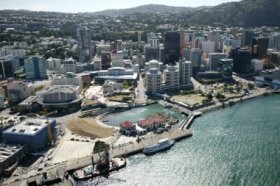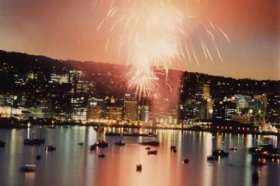 ---