supported by

Peter F Hamilton - Non-attending GoH
---
Due to unforeseen circumstances, Peter F Hamilton will be unable to attend the convention. Peter sends his apologies to the fans hoping to meet him.
Peter F. Hamilton was born in Rutland in 1960. He began writing in 1987, and sold his first short story to Fear magazine in 1988. He has also been published in Interzone and the In Dreams and New Worlds anthologies, and several small press publications. His first novel was Mindstar Rising, published in 1993, and he has been steadily productive since then.
Peter lives near Rutland Water with his wife Kate, daughter Sophie and son Felix.
Peter's website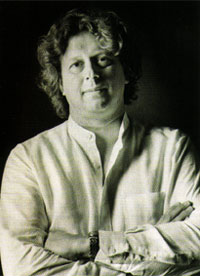 Bibliography
The Greg Mandel Books
Mindstar Rising (1993)
A Quantum Murder (1994)
The Nano Flower (1995)
The Confederation Universe
The Reality Dysfunction (1996) (Night's Dawn Trilogy Book 1)
The Neutronium Alchemist (1998) (Night's Dawn Trilogy Book 2)
The Naked God (2000) (Night's Dawn Trilogy Book 3)
A Second Chance at Eden (1998) (Short Stories)
The Confederation Handbook (2000)
The Commonwealth Universe
Misspent Youth (2002)
Pandora's Star (2004) (Commonwealth Saga Book 1)
Judas Unchained (2005) (Commonwealth Saga Book 2)
The Dreaming Void (August 3rd, 2007) (The Void Trilogy Book 1)
The Temporal Void (forthcoming, 2009) (The Void Trilogy Book 2)
Evolution's Dream (forthcoming, 2010) (The Void Trilogy Book 3)
Other Works
Lightstorm (1998) (Book 5 of the Web series)
Watching Trees Grow (2000) (Novella)
Fallen Dragon (2001)
---